Hütten Palast Hotel – Bringing the Outdoors, In!
Going away on a campervan and motorhome holiday can be an experience for anyone but as we have found, the Hütten Palast hotel in Berlin takes the camping holiday to new extremes! If you can do without the wind and rain battling against the side of your campervan but love the idea and atmosphere of a campsite, then look no further as we have found the perfect solution! Please make sure, as our best piece of advice, you take out adequate campervan insurance before setting off on your holiday,
The Hütten Palast is a hotel with a twist. Whilst most affordable stop overs offer the basic accommodation, this unique hotel gives you a touch of the summer feeling – even in winter – and retro happiness as you sit and swing in front of the huts or walk casually in flip-flops, with toothbrush in hand, to the showers. Here you are invited to stay over in one of the many campervans or huts and take advantage of the setting but remain in the warm, dry and familiar surroundings of a hotel.
Attracting attention from a vast amount of visitors, the Hütten Palast is available to hire if you so wish. Many parties, performances and workshops can take advantage of the unique setting and will be sure to impress attendees with the funky layout and set-up.
However, if you can't bear to stay away from the bedroom/en-suite generic scenario there are also 6 generous hotel rooms witch can be booked to satisfy all needs. So whether you want to experience a caravan holiday with the comfort of being inside or you are after a new exciting environment, the Hütten Palast Hotel would be a great place to start!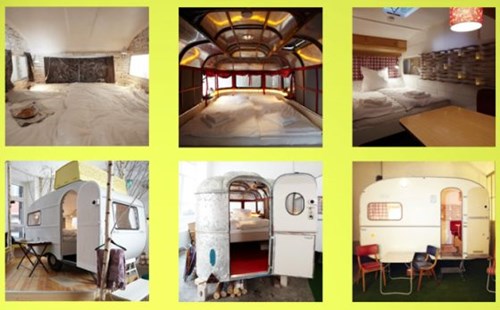 UK Campervan Insurance Quotations
We specialise in campervan insurance so please stop by and get an online quotation in minutes using our quote form.