Jeremy Clarkson's Motor Mouth
op Gear host Jeremy Clarkson has been in trouble with the BBC again this month, after comparing the new Toyota Prius Campervan as the Elephant man. Announced earlier this year, the Prius Campervan has been named by some, as one of the most hideous looking vehicles of all time… But even the Prius requires campervan insurance!
After Clarkson's verbal mishap a member of the public complained about the 'offensive' remarks Clarkson made, likening the car to someone with "a growth on their face", referring to it as the "elephant car".
A report by the BBC Trust's editorial standards committee (ESC) described how he "strayed into an offensive stereotypical assumption". This is not the first time this year that Clarkson has been in trouble for his ever wondering mouth.
If a Prius owner or someone interested in eco-transport was to be remotely interested in the campervan, they would soon be put off by the facts. With a conversion that adds over 20 inches to the length of the original Prius and 22 inches to the height, the economic and fuel efficient purpose of the Prius no longer exist. With the Campervan extension and the added conversion surely it's just an ugly vehicle.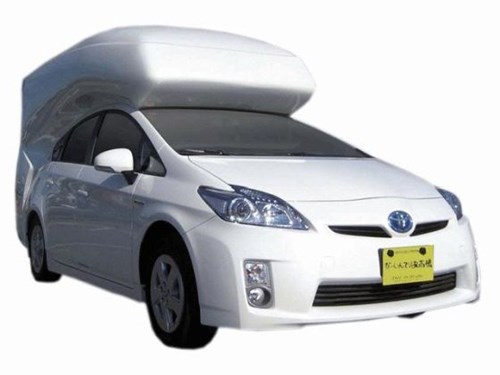 The camper extension is made of fiber-reinforced plastic and features a skylight as well as a back door for easy loading and unloading. Comfortably sleeping two, the concepts seems great however in reality the designers at Toyota need a serious rethink before they create another campervan.
What will happen to Jeremy Clarkson no one quite knows but one thing is for certain his antics have drawn attention to the Toyota Prius Campervan and the motorhome industry.
Campervan Insurance Quote
For cheap campervan insurance please click here.