The £1.2 million pound motorhome
The world's most expensive Motorhome in the world was unveiled earlier this year. Worth a staggering £1.2 million it has been dubbed the ultimate campervan. With a 'garage' to store the owner's luxury supercar and state of the art features, there have been a few orders from wealthy investors around the world. Imagine the motorhome insurance figure on that!
The start price of The Volkner Mobil Performance Bus is £750,000 climbing to £1.2 million for the fully loaded edition (that price does not include the £170,000 Ferrari in the secret undercarriage compartment).
It's takes 12 months from order to delivery and you can customise your bus exactly how you please; from lavish leather sofas to real wood flooring and wooden country style units to chrome finished kitchens and bathroom.
It also comes with a large fridge-freezer, dishwasher, microwave, Bose-Dolby-home Entertainment Surround System and a widescreen TV.
If you are a motorhome enthusiast or a rock and roll star with £1.2 million burning a hole in your pocket, then this 40 foot spacious motor home is definitely for you.
For more information about The Volkner Mobil Performance Bus got to http://www.volkner-mobil.com . With help and advice on insuring your motorhome click here or call 0844 573 6575.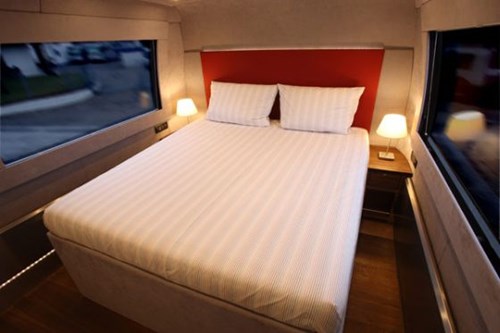 Renowned Motorhome Insurers>/h2>
We are famous for our cheap motorhome insurance premiums but this is the World's most expensive motorhome so the premium will be at a cost. That said, anything so valuable would have a high insurance premium.