Will Smith – The Fresh Prince of Anywhere!!!
Will Smith's $2.5 million motorhome is without a doubt one of the most luxurious motor homes we have seen to date. His two story 12,000 square foot motorhome is capable of turning heads in any car park but even Hollywood stars need motorhome insurance!
He uses this motorised mansion on film shoots and when he is out and about away from he's usual Beverly Hills manor. This double decker delight boasts a customised kitchen, a cinema room a makeup suit as well as a wardrobe room.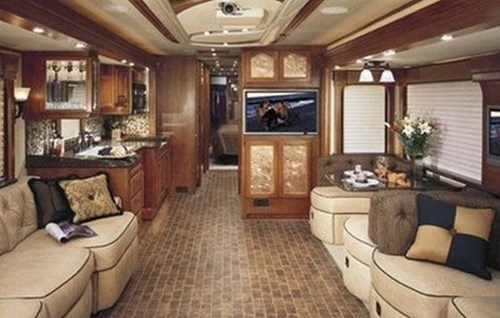 Beginning in the kitchen area, the lavish design seems to stretch on for eternity, with granite worktops worth between $150,00 and $200,000 depending on variation and a double fridge it's more than what most people have in their homes.
Moving through the Star Trek style doors to the wardrobe room where Will and his family will prepare to dress for the wonderful lifestyle they lead, from film shoots to music videos.
Once they have chosen an outfit they can move on and become even more glamorous than they already are in the makeup area, which has a remote controlled full length mirror that has a built in television behind – so while a makeup artist completes your transformation you can watch your favourite Will Smith film!
Also few motorhomes have quad pop outs but it is a rare sight to see a roof pop out Will's roof rises around 42 inches from the force of the 8 pistons creating 200 pounds of pressure.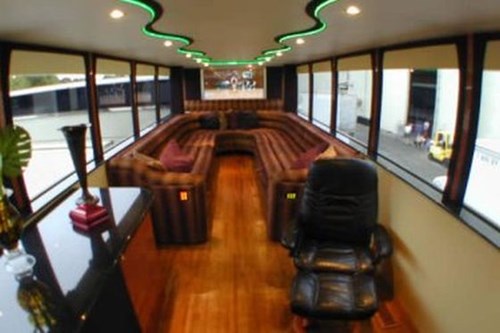 This eccentric motor home doesn't just have one level but two, upstairs in the bathroom (worth an estimated $25,000) extends the entire length of the motor home, has a steam shower with frosted glass, which can be switched with a push of a button.
Also upstairs the former child star has a 30 person cinema room with a 100 inch screen, the automatic blinds and sound system means that it is a child's dream.
With $3000 worth of leather, $150,000 of granite and another $100,000 worth of  gadgets this $2.5 million motorhome is bound to make Will Smith feel like a fresh prince anywhere not just in Bel-Air.
Motorhome Insurance Professionals
Motorhome insurance quotes can be received and compared by filling in the quote form located athttp://www.itsmotorhomeinsurance.co.uk/get-a-quote/